There's a lot to talk about today after last night's loss, but nothing more noteworthy than the absence of one Malcolm Butler.
Malcolm played 98% of the defensive snaps in the first 18 games of this season. Last night he played zero. He did play one snap on special teams.
So the question is… why didn't Butler play?  There's been a few theories on this.
The first is taking Belichick for his word that Butler's benching wasn't a disciplinary reason. When asked about it after the game Bill said "We put the best players out there and the game plan out there because we thought it'd be the best to win."
Personally, I think this is complete BS. I don't think there's a single Pats fan who felt this was "the best decision for the team." It's also clear that some Patriot players feel that the benching of Butler did not put the team in the best position to win.
Former Patriots cornerback Brandon Browner put up numerous Instagram posts during the game which displayed how he was highly critical of Bill's decision to bench Malcolm. One of them which can be seen below, was liked by defensive captain and linebacker Dont'a Hightower. It's pretty eye opening to see a leader on the team like an Instagram post critical of his own coach (his username is boomtower). I can't imagine Bill is too happy about this.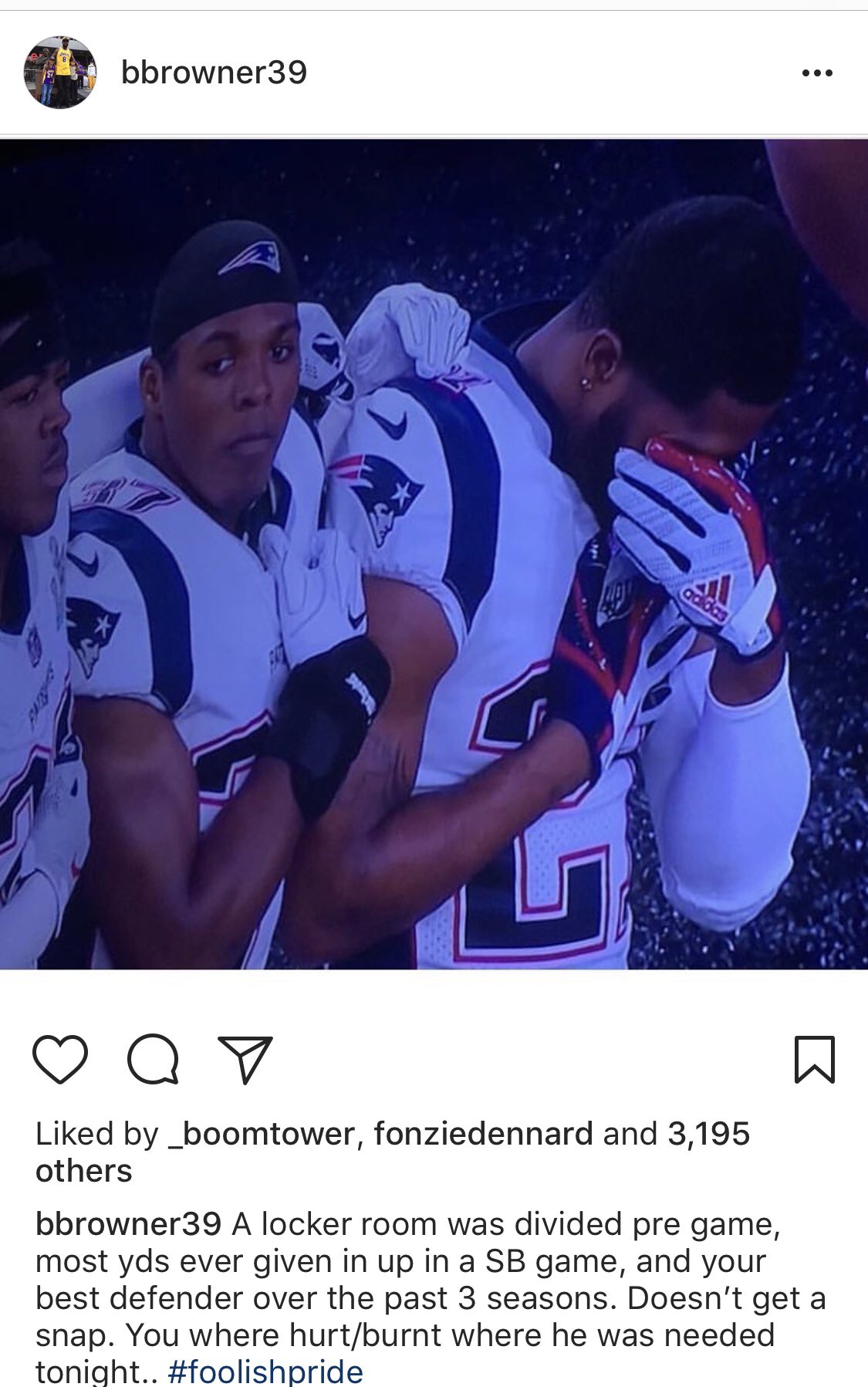 The other theory is that Belichick lied to everyone and the benching WAS disciplinary related. I think this was more likely. There's already been some whispers that he missed curfew one night last week and got caught with weed when he came back late to the hotel. There haven't been any Patriots insiders to report this yet so nothing is official on this front.
The argument against this would be then why didn't Malcolm come out after the game and say this or hint it in his post-game comments. He knew it was the last time he'd be in the Pats locker room and he won't be back with the team.
Instead when asked was he given a reason on why he didn't play, Malcolm said "No." He also said, "They gave up on me. F*** It is what it is". He clearly was very emotional and it is interesting looking back at it that he didn't give the media anything and basically said he doesn't know why he was benched.
If he was indeed benched for disciplinary reasons and something to do with weed or being intoxicated, then why dress him at all for the game? Why let him play a snap on special teams? Bill should of just sent him home and put him on the inactive list for the game if he really wanted to prove a point. They had 2 corners on their practice squad they could of activated for the game.
I reserve the right to change my opinion on the following take if we get more information that Butler really crossed the line, but if he was benched because Bill really thought the combination of Eric Rowe, Johnson Bademosi, and Jordan Richards were better… or he was benched the entire game because he missed curfew and got caught with some weed, then you could make the argument Bill potentially cost them a Super Bowl victory. Of course he's still the best coach in NFL history and I want him to come back next year, but this is something I know I won't ever forget when looking back at this Patriots run/game and I would assume a lot of other people would agree with me as well.
I think we all know Malcolm Butler will never play another down for the Patriots and although he had a down year by his standards, I'll miss the guy a lot. Nobody will ever forget the interception he made to win Super Bowl 49 but his legacy is more than that in my opinion.
We all know its been a rocky year for him on and off the field but for the majority of his time with the Pats, he had been the ultimate example of the "Patriot way."
He made the roster as an undrafted free agent. He's never been the most athletic player, or the fastest (ran a 4.62 at the NFL Combine)… but this guy competed his ass off as much as any corner in the NFL. He became so easy to root for the last few years because of how hard he played, how well he played despite being grossly underpaid, and becoming one of the better cornerbacks in the league as an undrafted free agent.
It definitely hurts to see Malcolm's career with the Patriots to come to an end like this. I hope he finds a way to get paid this off-season and success with his next team. In the meantime, I'll try and hold back my tears as well Malcolm.