The first round of the NFL Draft takes place Thursday night, beginning at 8 P.M. Rounds 2 and 3 are on Friday night, followed by rounds 4-7 on Saturday. ESPN, Fox, and NFL Network will all carry coverage.
I can't remember an NFL Draft with so much uncertainty. We still don't know who the Browns are taking at #1. There are potentially 4 QBs who could go in the top 5. The amount of buzz among teams trying to trade up or down feels like it's at an all-time high… in large part due to the fact there could be up to SIX quarterbacks taken in the first round. There's a lot of anticipation among NFL fans. Everyone is waiting to see what will unfold over these 3 days.
With storylines all over the place, here are the top 5 developments I'm looking forward to:
1.What will the Patriots do with their picks?
The Patriots hold 2 first round picks and 2 second round picks. This is arguably their most important draft in the last 20 years and could determine the direction of the franchise after the Tom Brady era. There are 2 sides to look at from a Patriots' perspective. On one side Tom Brady's window is closing, no one will deny that anymore. There are numerous holes that need to be filled to put him in the best position to win over the next couple of years. They need a left tackle to replace Nate Solder, a pass rusher, help at linebacker, a tight end, wide receiver, running back, and yes a QB which leads me to my next point.
While they have to worry about maximizing Tom Brady's window to try and win another Super Bowl or two, the flip side is that they need to start preparing for a future without TB12. If there's a QB they really like, do they try and trade up for him in the first round or take one with one of their first round picks? If they do that, then they're sacrificing the opportunity to quickly build a better team around Tom for the upcoming year.
2. What will the Browns do with their 1st and 4th overall picks?
The Browns are 1-31 over the last 2 years. They last made the playoffs back in 2002. In other words, they've pretty much been the laughing stock of the NFL for the last 10 years or so.
I have a great aunt who's 90 years old and has had Browns season tickets for years. Every time we get together for Thanksgiving and Christmas, I hear her displeasure with the Browns ownership, Johnny Manziel, and the franchise as a whole (for all their mistakes). Iris if you're reading this, I hope this is the year. You're draft rich with the 1st and 4th picks. You finally have the chance to evaluate and take the true QB of your future. You can also take a generational RB in Saquon Barkley, or an athletic freak like Bradley Chubb to create a dynamic pass rushing force comprised of him and last year's first round pick, Myles Garrett. Another possibility is to trade one of their picks to a hungry team willing to give Cleveland a promising QB.
The options are endless for the Browns and this is their biggest draft in a long time. Finally, led by a new GM who seems to know what he's doing (John Dorsey), this COULD just finally be the year the Browns start to turn a corner.
3. Where will all the QBs go?
Sam Darnold, Josh Rosen, Baker Mayfield, Josh Allen, Lamar Jackson, and Mason Rudolph. All 6 could potentially go in the first round. Darnold, Rosen, Mayfield, and Allen could all be picked in the top 5.
The top 4 QB's have a number of strengths, but on and off the field questions as well – hence we don't know who's going to be drafted where. Lamar Jackson is arguably the most explosive player in the draft. There are questions about whether or not he can succeed as an NFL QB but if he ends up in the right place, with a coach and organization that really believes in him, the sky could be the limit. He's already being compared to Deshaun Watson, who took the NFL by storm last year.
4. Seeing a parrot announce the Buccaneers 4th round pick
Photo credit: USA Today
Alright so this one is a bit of a joke, but I think it's funny. For those who haven't heard, Zsa Zsa the parrot (pictured above) will be announcing the 4th round pick of the Bucs from the pirate ship in Raymond James Stadium (where the Buccaneers play). Zsa Zsa is only 8 years old and has a life span of 70 to 90 years.
I think this is an interesting out-of-the-box PR move, to reveal a team's NFL draft selection. The NFL Draft is easily the best and most watched of the major sports. Why not put a little spin on it here and there and make it fun?
5. Seeing Shaquem Griffin get drafted 
For those of you who don't know Shaquem Griffin, he was a linebacker at the University of Central Florida. He had his left hand amputated when he was 4 years old due to an amniotic membrane that was wrapped around his hand when he was born.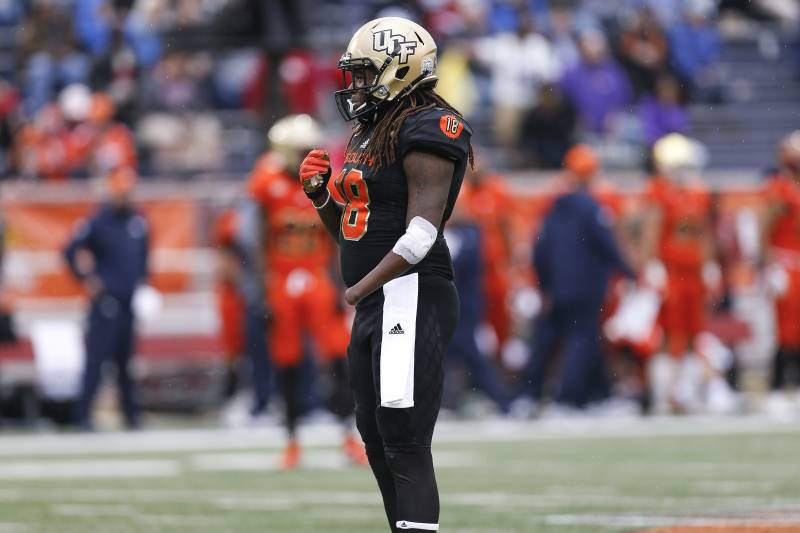 Photo credit: Bleacher Report
He blew people away at the NFL combine by running a 4.38 40 yard dash and bench pressing 20 Reps of 225 lbs with a prosthetic hand. He's now projected to be drafted somewhere around the 3rd or 4th round. The NFL has invited him to the draft and to walk the stage to shake Rodger Goodell's hand when his name gets called. I can't imagine the emotion that will run through his mind and the extreme pride his family will feel when his name is called. This is truly an incredible story and if you don't root to see him succeed in the NFL, then why do you even watch sports?