It feels like it was just yesterday that I wrote my 2018-2019 NBA Season Preview. So much has changed since last year. Let's rewind through some of the biggest story-lines over the last several months…
Anthony Davis was traded to the Lakers to team up with LeBron
Kawhi Leonard won a title for the Raptors, then bolted for the Clippers in free agency
Paul George was shockingly traded to the Clippers to play Robin to Kawhi's Batman in Hollywood
Kevin Durant tore his Achilles tendon and will miss most, if not all, of the 2019-2020 season… oh and he and Kyrie Irving are teaming up in Brooklyn
The Celtics lost Kyrie and Al Horford in free agency, but added All-Star Kemba Walker
The Rockets decided the James Harden and Chris Paul duo wasn't working so they traded Paul in exchange for Russell Westbrook
As usual, the story-lines are endless after an incredible off-season. I think most people would agree that this is the most wide-open the league has been, going into a new season, for a long-time. For the last several years, the Heat and Warriors have been heavy favorites to win it all going back to LeBron's first year in Miami. Let's get into some predictions…
MVP – Steph Curry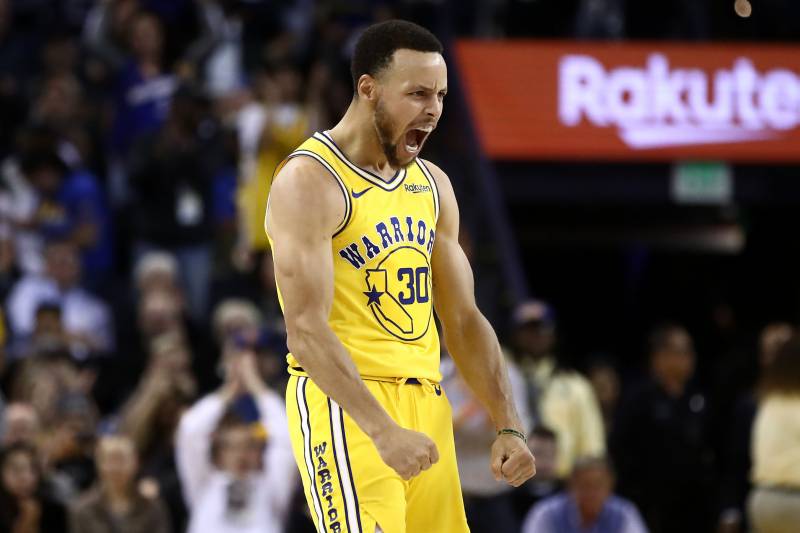 Photo Credit: SB Nation
It's easy to forget that it was only a few years ago Steph Curry was coming off back to back MVPs. With the addition of Kevin Durant, after Curry won his second MVP, people seemed to forget how dominant and amazing Curry truly was. It's for good reason, Kevin Durant has arguably been the best player in the NBA the last few years. Steph began to slowly remind people of his MVP days in the NBA Finals back in June against the Raptors. Although Toronto would go on to beat an undermanned Warriors team in 6 games, Curry balled out in the series averaging over 30 points a game and consistently hitting big shots.
Fast forward to the 2019-2020 season and Curry could be in line for his biggest year yet. Kevin Durant's now in Brooklyn. Klay Thompson will be out until at least the mid-season with a torn ACL. The West is as deep as it's ever been. This means the "load management" days, that deeper/more talented teams like the Lakers and Clippers can afford to their superstars, may not be the case for the Warriors. They'll have to fight harder to make the playoffs.
Despite losing KD permanently and Klay for much of the upcoming season, there is some good news for Steph as they signed All-Star D'Angelo Russell. Russell tends to play a lot of isolation ball, but he will make Steph's life easier as defenses won't be able to focus strictly on him.
We all know Curry is probably the greatest shooter who has ever lived. He's drastically improved his finishing ability around the rim the last several years and is still one of the best ball-handlers in the league. It's not out of the realm of possibility for Curry to improve on his career best 30.1 PPG in 2015-2016, while almost single handily carrying the Warriors offensively to somewhere in the top 5 in the Western Conference until Klay returns. If this is the case and the Warriors finish around the top 4 or 5 in the standings at season's end, I expect Curry to win the League MVP. It's been awhile since we've seen Steph fully unleashed with no KD, so appreciate the greatness you'll see this upcoming season!
Rookie of the Year – Zion Williamson
Photo Credit: Sports Illustrated
Do I really have to elaborate much on this one? As much as I'd love to go out on a limb and say someone like RJ Barrett or Ja Morant wins, it's just not logical. Zion has looked amazing in preseason. He's averaging 23 points, 6 rebounds and 2 assists while shooting 71% from the field… 71 FREAKING PERCENT! While those numbers may regress a little once the regular season starts, there's no doubt that Zion's freakish build and athleticism are going to translate well into the upcoming season. When you couple all this with the fact the Pelicans should have a chance to compete for a 7th or 8th seed this year, Zion coming in as a heavy favorite to win ROY at -130 (Per Bovada) makes perfect sense.
Most Improved Player – Shai Gilgeous-Alexander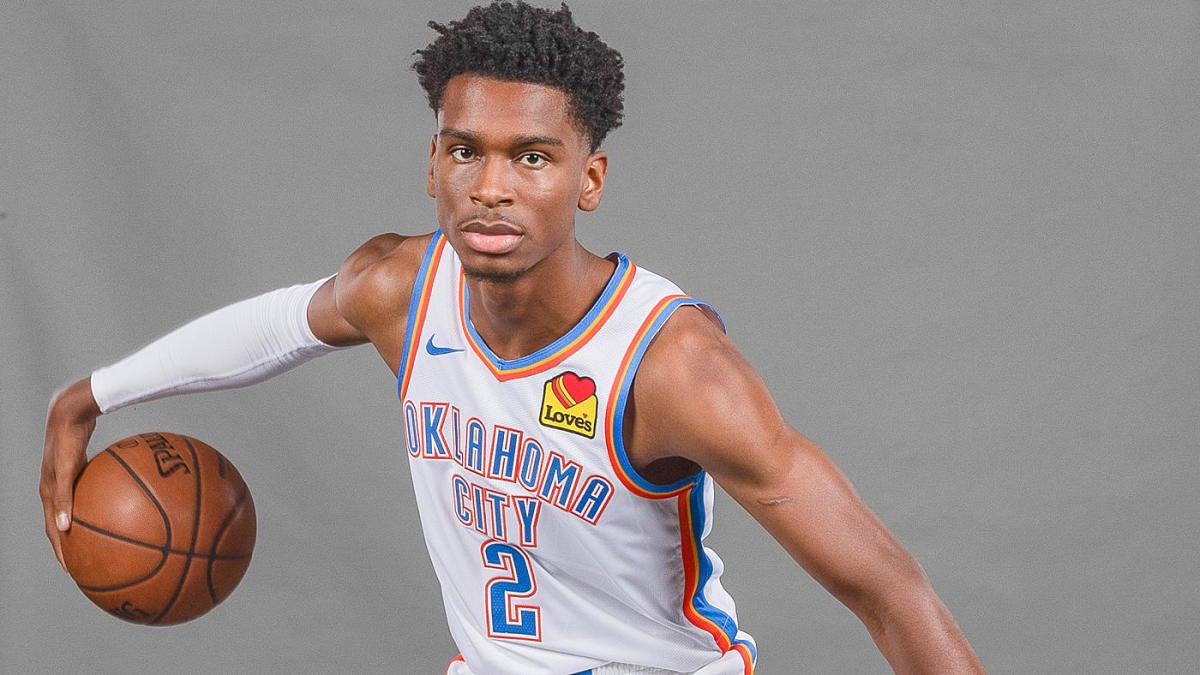 Photo Credit: CBS Sports
Shai was the prized player the Thunder received from the Clippers in the Paul George trade back in July. SGA just turned 21 in July and is only going into his second season in the league. Some people may argue that I'm a year early on this prediction. He also may be playing off the ball, with Chris Paul running the point for the Thunder this year, therefore taking away some usage/opportunities from him.
There is a lot to love about SGA and his situation this year though. He's a very well-rounded player who can distribute, shoot the rock, is slippery in getting to the rim, and has a chance to be a stud defensively with his 6'11 wingspan. He's come out of the gates hot this pre-season averaging 21 ppg., shooting 52% from the field, and 92% from the line.
A lot of people argue that the Thunder's acquisition of Chris Paul could be bad for Shai and potentially stunt his growth. I'll play "devil's advocate" on this. First, I'd say there's a 50/50 chance Chris Paul finishes the season with the Thunder. If they come out struggling in the beginning of the season, there will be more incentive for the team to trade him. For the time being, he's going to start the season on the roster and this could be great for SGA.
Say what you want about Paul, but he's always been one of the best defensive guards in the league. He's a great floor general and has really improved his jumper from earlier in his career. These are traits that SGA wants to eventually master. Having Paul around to mentor him could help SGA's game continue to grow even more dramatically this year. I also believe that Billy Donovan will do his best to stagger some of the minutes between SGA and CP3, so that SGA will have the opportunity to have the ball in his hands more often. While in the long run CP3 getting shipped out of OKC may improve SGA's chances to win Most Improved Player, CP3's presence (at least in the beginning of the year) will pay dividends toward the development of SGA.
NBA Finals – Lakers defeat the Sixers in 6 games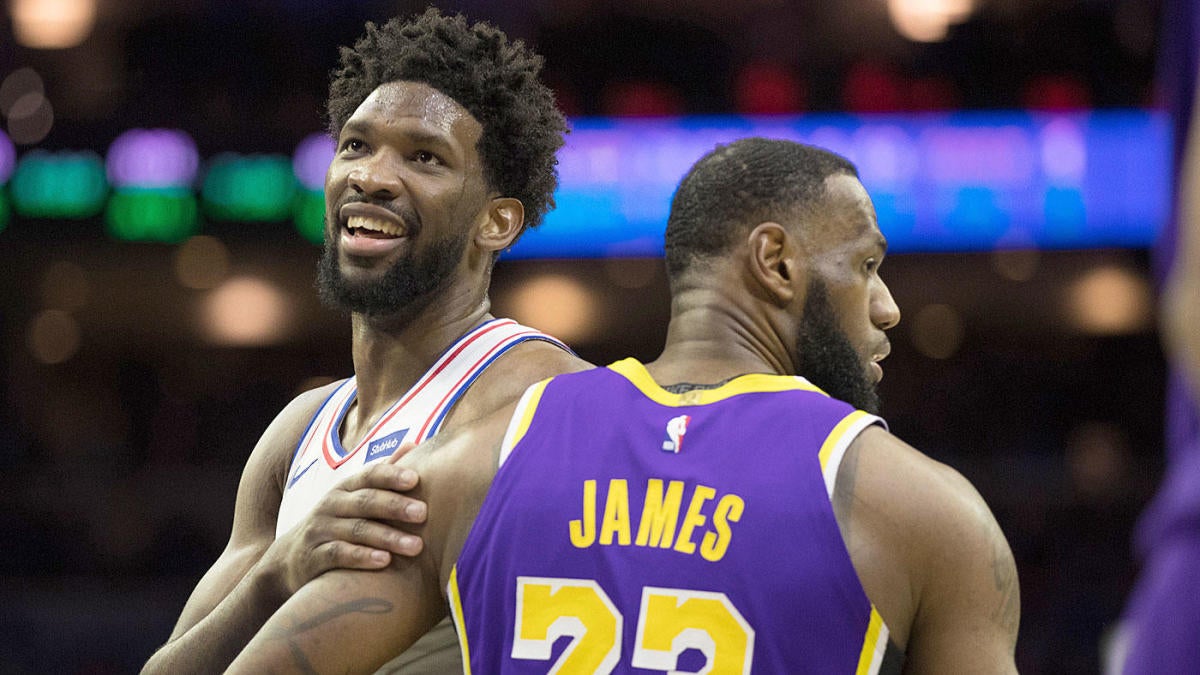 Photo Credit: CBS Sports
If you had asked me my prediction 2 months ago, I would have said the Clippers beat the 76ers in the NBA Finals. I cannot stress how much I love the team the Clippers have built around Kawhi and Paul George. They have the perfect blend of scoring, defense, and role players. I expect guys like Lou Williams, Pat Beverly, Montrezl Harrell, JaMychal Green, etc. to fill their roles flawlessly for this team.
On the flip side, there's part of me that has this eerie feeling that Paul George or Kawhi won't be fully healthy in a Western Conference Finals match-up against the Lakers. I could also see Paul George's absence in the first month or so of the season, coupled with some "load management" days, costing the Clippers in the standings and then losing in the second round of the playoffs because they don't have homecourt advantage.
So, I think the 1-2 combo of Anthony Davis and LeBron James will carry the Lakers to their first title since the Kobe and Pau Gasol days. The Lakers made a very smart move this off-season after acquiring Anthony Davis. Instead of using the rest of their cap space to try and bring in a 3rd star like Kemba Walker or Jimmy Butler, they spread their money out to fill their needs for the rest of the roster. They were able to re-sign solid role players like Rajon Rondo, Kentavious Caldwell Pope, and Javale McGee, while adding Avery Bradley, Danny Green, Dwight Howard, Jared Dudley, and Quinn Cook in free agency. Many of the aforementioned players are at points of their career where winning a ring is more important than getting their numbers. They'll be able to play small or big, depending on what other teams throw at them.
Now let's get to the 76ers. Boy it pains me so much to say this as a Celtics fan and a big hater of the 76ers… but I really think they're getting to the finals this year (as I always say I'm nothing but fair… don't call me biased). I believe the additions of Josh Richardson and Al Horford will make them the best defensive team in the NBA. I think that when we look back at the end of the season, one of the best signings in free agency will be Al Horford. His ability to stretch the floor as a big man who can shoot, his defensive smarts, and his leadership will go a long way for this team. He'll also be able to take some of the weight off Joel Embiid's back defensively, potentially keeping Embiid fresher at the end of games… and the end of the season. When I envision a potential Eastern Conference Finals of the 6ers and Bucks, I believe the 6ers ability to throw different looks at Giannis, whether it be Ben Simmons, Horford, or even Embiid, is going to be the difference. Giannis is next to unstoppable, but I think the 6ers will be his most difficult match-up in the league.
Should the Lakers and 76ers meet in the finals, I think the pure talent and best 1-2 combo in the NBA in LeBron and Anthony Davis will be too much for Philly. I believe the Lakers have the right blend of talent and experience in guys like LeBron, Rondo, and Danny Green (hell, throw Dwight Howard in there if you want) to be the difference in the series. It feels like this might be LeBron's best chance at a title for the rest of his career. Between a wide-open league, coming into a season as fresh as he ever has, and getting a top 5 player in the league added to his team, there's no excuse for him if they don't compete strongly for a title. The one x-factor in this series could be if Ben Simmons has developed a jump shot. If he can at least keep defenses honest this year, it could change how I feel about this potential series. Until I consistently see it, I'm going to expect that Simmons still can't shoot and it'll end up coming back to haunt the 6ers if these two teams meet in the finals.
I hope everyone has their NBA league passes ordered and is ready for an amazing season. Also don't forget if you don't want to buy the full league pass package, you can purchase the 4th quarter of NBA games through league pass.